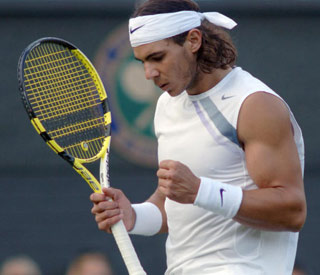 One of the joys of not having children is the ability to spend hours and hours at sporting events.  Sure, once they're big enough, you can attempt to bring them into the fold.
I once watched a 2 year old girl in a Richmond jumper make her way through a giant tupperware container of fruit for four entire quarters.  That's 2 hours people.  My son would've eaten the fruit, demanded an ice-cream, thrown a tantrum and asked to go home, all before Richo had even got a touch.
Cricket, I'll be honest, I don't get.  All I know is if they're wearing colourful clothes it won't be clogging up my TV all week.
If there's one sporting event that encapsulates summer, for me it's the Australian Open.  What better way to spend a summer day than numbing the pain of bathroom queues, fast food queues, court queues and sunburn than with multiple cold drinks in the Heineken beer garden.  There's a great vibe (unless somewhere there is a Serbian playing a Croation playing a Bosnian) and ground passes are great value in the first week.
Deciding what to wear can be tricky.  Nobody wants sunburn zigzag or to look like an escapee from the Cronulla riots so here are my tips:
Country Road Crushable Sun Hat – $59.95
A hat is a must.  The Heineken Bar were giving out straw numbers last year but if you don't feel like queuing and you're inclined to fall asleep under a tree on top of your hat, a crushable number like this is perfect.
Zara Blouse with Pocket
A shirt in a light-weight fabric is easy to dress up if you decide to head out afterwards.  Plus no sunburn.
Shoshanna Snap Front Long Dress
If you feel like rocking a dress, a maxi is perfect court side attire.
Bensimon Classic Lace Ups
I love these french tennis shoes.  The reason?  Aside from the comfort factor and variety of colours, if you take the laces out it is entirely possible you will never have to bend down to put your shoes on again.
Love these new cobalt blue ones:
Do you enjoy summer sports?  Have you managed to enjoy a day out watching sport with kids?